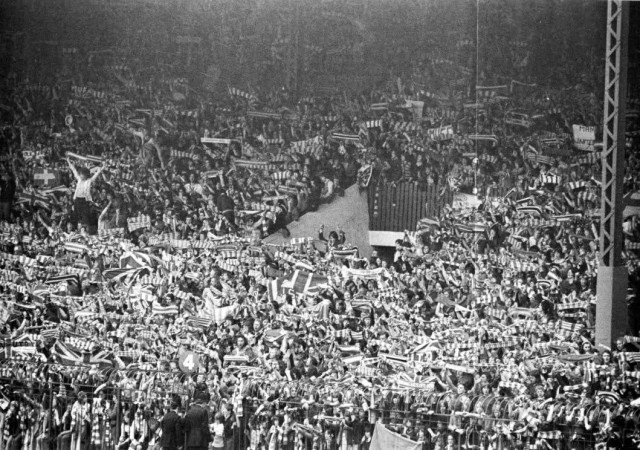 Reclaim United March – 26/01/13. Fulham at Home FA Cup Fourth Round.
We arrived at the ground earlier than usual with the anticipation of the reclaim United march. There was an air of excitement prior to the game which was unusual for a run-of-the-mill fourth round FA cup tie at home to Fulham. The march was intended to give the game a greater atmosphere by recreating the spectacle of fans from yesteryear, singing the old fashioned FA cup songs and bringing along banners, and the fans certainly lived up to it.
Around 5pm fans gathered outside of the Bishop Blaize, where many had consumed a drink or two to help with their singing voices, obviously. As a group the fans had collected and the march began, lead by fans with MUFC flags and home-made bed sheet banners. Hundreds marched down Sir Matt Busby Way, twirling scarves in the air, showing off banners and chanting the old chants such as 'She wore a scarlet ribbon'. Wow, what a beautiful sight.
The march continued around Old Trafford and through the North Stand tunnel of the stadium, the sheer noise that was generated was brilliant. 'Red Army' probably being the chant that reached the highest volume had the fans bouncing, then it was back to the FA cup chants like 'Que Sera, Sera'. Many fans that we passed outside of the turnstiles began to join in with the march and the amount of fans had increased even more. The fans all then squeezed into the Munich tunnel, we completely filled it, and although everyone was packed like sardines, we were all singing. The noise bounced from the walls, flags and scarves were in the air and although I had never experienced it, it was like being back in the 70's.
Although the 72,000 plus Old Trafford crowd were not as loud as the march, it did have an impact on the atmosphere. Second half in particular, the volume raised and the team upped their performance because of this. Lets face it, against a taxi full of Fulham away supporters the atmosphere and banter between fans was never going to be mind blowing but what the march did boosted the atmosphere at the ground and gave a sense of occasion and excitement to a tie that would probably not have had this.
Here are some videos I took at the march, please have a look;
MUFC Reclaim United Fans March Before Fulham Match
Reclaim United – RED ARMY!
MUFC Fans In Munich Tunnel Before Fulham Match
MUFC Wembley Chants Before Fulham Match
So where do we go from here? Do we do it again in the next round against Reading? Or do we take it a step further and do it before Premier League and Champions League matches? If last years proposed 'singing section' at OT is not furthered upon, are marches before kick off another way of generating better home atmosphere?
Reclaim United March

,