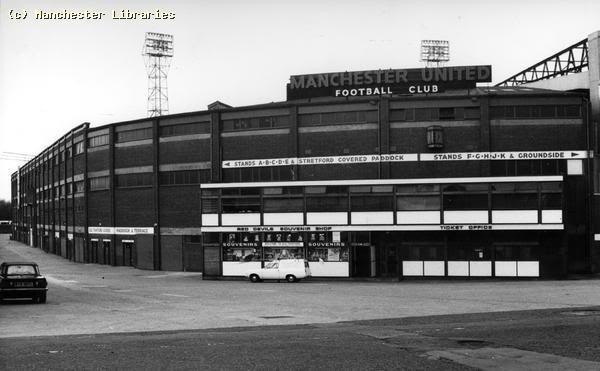 All This Way For Nothing?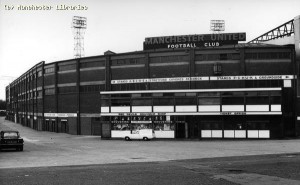 My first venture in United Road wasn't a happy one. It was the 17th December 1977 and although thrilled at going to watch United play I like any other seven year old kid wanted to be in the Stretford End with the noise, colour and fervour it possessed them days. Sadly the Stretford End was full and the turnstiles locked so my Dad took us into the United Road paddock. I was further disappointed as a very good Forest team hammered us four nil and of course went to win the championship.
Although I considered myself a Stretford end left sider my shock transfer to United Road came about because of boredom in truth. The Stretford End undoubtedly was glorious in the sixties and seventies but by the early eighties it had become a little bit tame and mellow by the standards it had set from the previous two decades.
On November 27th 1992 Eric Cantona joined United from Leeds. Ten years earlier to the day United played Norwich City at Old Trafford in front of just under 35,000 fans. Half way through the game I walked around the front of the Stretford End towards where the corner flag was. There was a big fence separating The Stretford End to United Road paddock but all the jibbers of that era claimed if you weren't too fat you could squeeze through a gap at the bottom of the fence. Believe it or not I wasn't actually that fat in those days and I managed to negotiate the gap, although I admit it was tight and I only just got through.
I made my way straight along the stand until I was in the last pen, which was of course as close as you could get to visiting supporters. On looking up this fixture I noted we won three nil but quite honestly I don't remember one thing about the actual game, all I remember was the banter and abuse of visiting fans from the reds in United road. I was now hooked and although there was no child concessions in United Road I paid £2.80 every game instead £1.10 in the Streford End and didn't mind one bit. I stayed a regular in United road until they put seats in there and felt a real tinge of sadness when the terraces there went. I actually sit at Old Trafford now in what was the last pen near visiting fans all those years ago and although the ground is totally unrecognisable I still have flashbacks to those enjoyable days and the characters around.
Every set of away fans was abused in various ways. Attractive women were wolf whistled at before "get your tits out for the lads was aired". If they waved they were cruelly serenaded with "she's a slag, she's a slag etc". A big chorus of "billy bunter billy billy bunter" for the fat fans and of course we had the legendary copper Smiley. One game as the Police were walking around the front of the pitch somebody noticed one of coppers grinning like a Cheshire cat. "Smiley Smiley give us a wave". To our surprise he duly obliged. Every home game for at least a couple of seasons we sing the song and he would wave with a big grin on his face. The other coppers must have been jealous as fuck. If one of the away fans was cheeky we would adapt the song "smiley smiley sort em out" and he often did.
Once some visiting fans sang, "where's your famous Stretford End?" We didn't care and launched into lots of United road songs. "Karma Karma" being the most well known one but believe me there was others. Indeed we used to sing "scoreboard" then "K Stand" then "Paddock" give us a song. Then we sang "Stretford Stretford Fuck of home". The Stretford End had had its day we were the boys now, well we thought so anyway.
Just after the infamous ICF hooligan documentary was aired on TV we played West Ham at Old Trafford. We spotted several faces in their end and launched into "we saw you run on the tele" oh such memories. We would often mock people for ridiculous reasons like err soap operas. Yes we hate brookside re the scousers and crossroads if we played a team from the West Midlands. The best one was probably "he shot he cum, all over Angies bum, dirty den dirty den" genius and not even one of mine.
Being in United road did however see a young me first start a song off. Not my own just one of the established songs of the day. I have always looked older than my years so when a 13-year-old Boyle bawled out "pride of all Europe" I actually probably looked about 18. Whenever we played a team from somewhere further than an hour away and we went ahead, there was a rush to see who could break into "all this way for nothing" first. Once it was me and guess what? Nobody joined in. Now that may have emotionally scarred many a person but clearly in my case it just made me even more determined to get fans singing.
People go on about being to young to witness the punk era or the Stretford End or even the madchester era but really I feel for any young reds that never witnessed the United Road paddock during the eighties. We've had some good banter between J & K stand in recent years but nothing will come close of the days in United road.
Pete Boyle.
All This Way For Nothing?

,