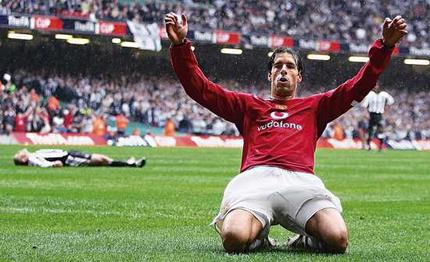 Dutch Patrick – Villa Away
It was just a rainy Sunday a couple of years ago, we had drawn Villa away, 3th round FA Cup.
Kick off 4 'o clock, i arrived in Birmingham at 12.30 hours, phoned some mates and met up with them in town where already were thousands of Reds drinking in every pub you could find in city centre.
At 15.30 i took a cap to Villa park, picked up my ticket from my mate Phil and got into the ground. I was right at the bottom of the stand next to the pitch. It was raining, half time 2-0 down and i felt shit, coming all the way from Holland to see my team getting slaughtered by fucking villa.
I won't describe the second half, you had to be there, but the following is quite funny.
After Ruud Van Nistelrooy scored the equelizer i went mad, ran with hundreds on to the pitch to celebrate his goal. All of the sudden i was the last one on the pitch and Ruud ran next to me, i grab him by his shirt and told him in Dutch "Kom op Ruud, score er nog een, doe het voor ons, voor iedere UNITED FAN die hier is" ("Come on Ruud, score another one, do it for every Red in the ground, DO IT FOR US") You should have seen the expression on his face, you could here him thinking "What, a Dutchman here in Birmingham, on the pitch??" He replied: "Jaja, ik score zo de winnende maar aub, ga van het veld af"!! ("Yes yes, i will score the winning goal in a minute but please get off the pitch").
So i did, i ran off the pitch and back on the stand, and then…….60 seconds later…..there he was again…..he kept his promise !!!!! It was a great moment indeed!!!
Greetings from Dutch Patrick.
Dutch Patrick - Villa Away

,