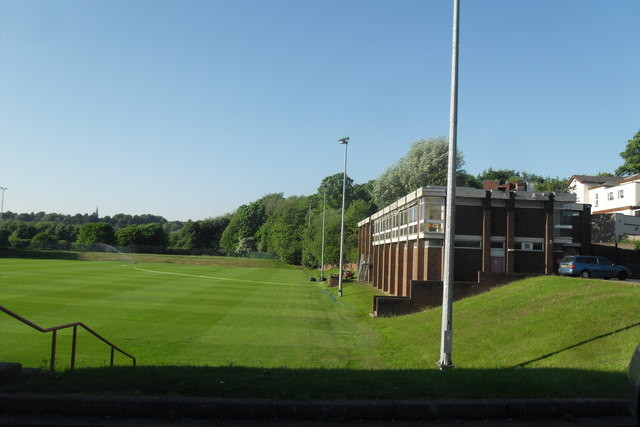 The first few few times I visited the Cliff it was quite a journey for me and my fellow Broomwood boot boys from Timperley. We had to catch a bus to Altrincham before enduring the longest bus journey ever from Alty to Trafford bar. All the way down the A56 the bus stopped to let people on and off at seemingly every single stop and all the lights were always on red as we approached. Our cockiness of being the Broomwood boys usually petered out as we queued up for the bus to Kersal. We realised that the kids our age were a lot more streetwise in the suburbs of Old Trafford and Salford and usually appeared that bit tougher than us Cheshire lot.
The bus we caught to Salford was the 71 and that again seemed to take an eternity as it weaved its way around an area very alien to us South Manchester sorts. We got off by the bridge on the banks of the River Irwell, turned left and then had a ten minute hike up a very steep hill for a chubby little boy like me who had eaten far too many cakes courtesy of my father and his employment with a certain Mr Kipling.
When we got to the Cliff it seemed fantastic yet there wasn't much actually there. We were allowed to stand virtually right outside the doors of the complex whereas in later years the powers that be had you standing a long way back and at one stage you weren't allowed in at all. We stood on the grassy bank on the corner with our cheap dispensable cameras eating home made corn beef sandwiches but all wishing we had enough money to purchase some chips from down the road.
My first autograph I recall ever getting was that of the great and much underrated Dutchman, Arnold Muhren. The immense thrill of having my photo taken with the late Alan Davies, kings of the wing Steve Coppell, and err Arthur Graham, Arthur Albiston and of course Scott McGarvey. I once mentioned how I queued to get my photo with Scott (now apparently a football agent) for a show on MUTV and Scott was apparently unhappy with me for taking the piss. If you are reading Scott, no offence meant mate but your barnet was something special wasn't it?!
One thing that has always stuck in my memory was Frank Stapleton and Ray Wilkins two of our star players in those days ignoring all the requests and speeding off without so much as a wave for us fans. Gordon Strachan on the other hand stayed until every last book was signed and once rumbled me by showing me where he had signed my book four times previously but still obliged. Bryan Robson like Strachan and Cantona in later years also realised how much the fans deserved a little something back and happily signed autographs and had photos until everyone was done. One day he even pulled up outside the Cliff on the way out and let two young female fans get in and I presume he gave them a lift home. In those days that wasn't dodgy as the girls were about 12/13. Robbo was just probably concerned about kids that age wandering around Salford alone. I was jealous as anything but if any women ever tell such a story about getting a lift off Robbo I can confirm it was true, bitches.
I didn't visit the Cliff for a long time, maybe ten 4 years, until 1995. It was around the time Eric was due back from suspension after the Selhurst incident. I got to the barrier and told 'old Harold' the steward – come security guard – that I was here to see Eric. I was blagging but felt confident I could see Eric and that he wouldn't mind. Initially Harold dismissed me with "wait behind there and if he comes out you can try and get his attention". I told him I was expected and said he was welcome to check with Messrs Ferguson and Kidd. He wandered off in a bit of a strop and I thought that maybe I had gone one blag too far.
Harold returned within two minutes and said "Mr Boyle this way please". I was stunned but acted cool and polite as I was led into the waiting room just inside the complex as all the other people were still strictly behind the crash barriers in the car park. To be fair Harold was very polite and was doing quite a demanding job with blaggers like me around.
I was waiting for a few minutes when I heard a Mancunian voice singing a familiar song at the top of his voice. "You've gotta roll with it, you've got roll with it" "Alright Boylie are you here for Eric?", "Err yes" I nervously answered. "He won't be long mate" and then Brian Kidd went off down the corridor.
I went against my normal "too cool to ask" attitude and got photos with Andy Cole and Eric when they came out because I thought we all need some souvenirs to remember such happy times. When Eric came out to see me – like all the times I have been in his presence – I turned almost to jelly and far from the normally super confident person most people know me as. I asked about a possible interview and he said yes when things calm down after his return. The very fact it was Eric I never pushed it and that interview finally happened some nine years later.
I went there a few times in the treble season and interviewed a few players for MUTV and felt a real buzz at being able to stand right on the touchlines as the boys trained. I even have some footage of Steve McClaren asking me to sing the 'Neville Neville' song and Gary Neville requesting the 'Beckham World Cup' song. I duly obliged and that video is locked away safely at Boyle towers.
All in all I have very fond memories of the Cliff and feel sad that kids nowadays couldn't even get a bus close enough to the training headquarters at Carrington nor sadly just turn up and get in if they got there. If you couldn't go the games when I was young you could always go down the Cliff and meet your heroes there. My mate Neil bought a house that backs onto the Cliff and when I visit all those fond memories immediately come flooding back.
This article was first published by Pete Boyle in Red News, the first Man United fanzine
Memories of The Cliff

,