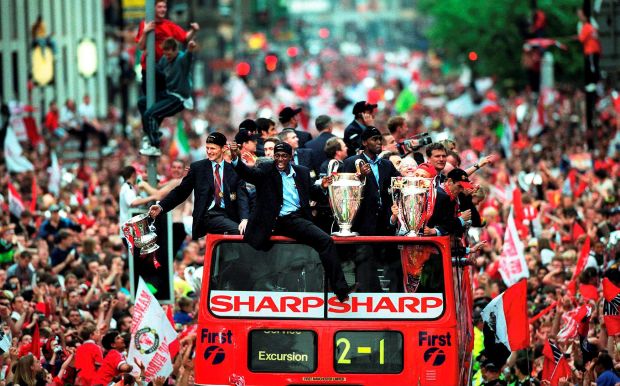 That Was The Week That Was
In May 1999 many reds experienced a truly unforgettable week, I was no different but perhaps a bit more rock n roll. When Andy Cole scored the winner against Spurs the impossible was back on. After the match we all headed to Dukes 92 in Castlefield where the bouncers turned a blind eye to our celebratory singsong. The landlord Jim a big red even bought the whole pub a beer to toast our red shirted heroes. From there we headed to the Malmaison Hotel bar where we met up with the wonderful Cerys Matthews for another late drink.
Next day I somehow made it into work and it was another case of hangover central. I received a call from the ITN lunchtime news when I got into work and subsequently did a live interview re our possible treble at the ground around 1pm. When I returned to my then place of work on King Street West there was news being passed around that some United players were enjoying a few beverages in Mulligans which was situated just at the back of our building.
By the time I finished work just after 5 the word had clearly spread as the pub was a hell of a lot busier than a normal Monday teatime. I knew a few of the players to let onto so when I walked in I clocked a couple telling others who I was but unlike me I pretended I was oblivious to the fact that now the whole United squad were crammed into this little pub. I got myself a pint of the black stuff and it just felt like I was topping up from the previous night. A few minutes later Dwight Yorke strolls over in a white suit only him or Coco could get away with wearing and says "Hi Peter". I had never previously met Yorkie so was a bit stunned. I even asked him how he knew my name and he said Giggsy had pointed me out when I walked in, naturally I was on cloud 9 but the best was yet to come.
I downed my first pint and was on my way to the bar when Yorkie (mates now eh?) summonsed over to the table where he and the boys were. "Come on Pete give us a song". At first believe it or not I was a bit reluctant and Ned Kelly's presence nearby and trying to usher me away weren't encouraging me. However when you're idols are egging you for a singsong you soon forget such distractions. I duly obliged with a couple of favourites and the players were loving it. David May and Gary Neville as usual being the liveliest and requests for songs were now coming thick and fast. The most surreal bit was seeing former heroic keeper Schmiechel playing air guitar as I went through 'Neville Neville' and David May asking me for some shall we say rum songs which I didn't on this occasion deliver. Ned Kelly always gave me the impression he was a little jealous of me with the players. Yes he knew them all but because of his job not because of his personality and I noticed in his book about United he covers the night in mulligans without a reference my banter with the squad that went on for about 40 minutes. Perhaps he didn't like being sent to bar by the players to fetch me pints of Guinness? I basically went through dozens of songs and Scholes, Giggs and Neville I feel were trying to catch me out by asking for a song for just about everybody there. They didn't coz I just made songs up on the spot for whoever if they didn't have a recognised song in their name. I could have stayed longer but was having too many late nights and I had a long couple of weeks ahead of me. I left knowing I had been part of an unforgettable night and even if Ned Kelly had selected memory Andy Cole remembered it well.
We beat Newcastle to make it 2 out of 3 on the Saturday and I returned home to Manc that night. Next day it was off to Llangollen to see Catatonia in a triumphant gig and took advantage of my V I P pass by swanning around backstage and dressing rooms etc. The morning after my mate who had been to the gig with me dropped me off as arranged at Liverpool Airport where I caught my flight to Barcelona. A wonderful week or so ended in the most dramatic and fantastic way. Just to sum up the extraordinary week when we scored both goals by pure luck I was jumping up and down with my arms around Richard Ashcroft and his wife who were sat just behind me. I have shied away from writing this account coz of all the necessary name checks but then I thought why not? I think any other red would want to tell such a story and if they say they wouldn't they are lying.
Peter Boyle
That Was The Week That Was

,