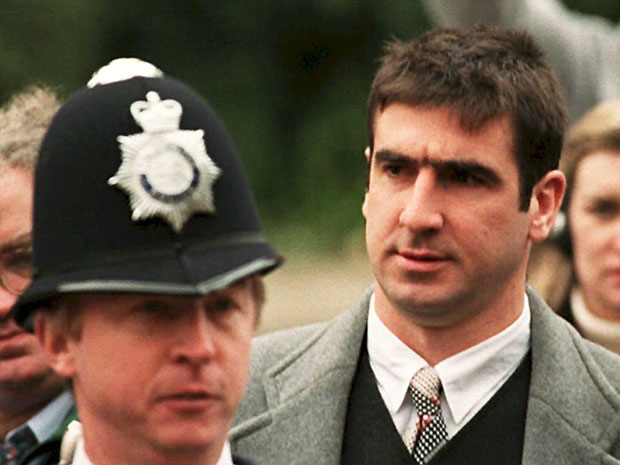 The Urban Croydon Collective
My reworking of the Denis Law classic terrace song had took off so well that I and other were getting giddy and thinking of maybe releasing 'Eric the King' as a single. Back in 1994 it was still quite something to release a single in the days before digital downloads and file-sharing etc. The aforementioned song and all its verses had proved really popular on the album ' Songs from the bathtub' and its amazing that almost twenty years on its still sung in all its glory before home game in pubs near the ground as well as a firm favourite on most always both in UK and Europe.
Returning home from the game in v Blackburn in January 1995 was the start of an extraordinary few months. My ex went into labour that night and the following day my oldest child Laura Jane Cantona was born. That was dramatic enough but two days later something astonishing happened – Selhurst park. It's well documented what happened that night but suddenly we had a choice /dilemma/opportunity, release 'Eric the King' as a single / record of support for Cantona.
Eric got banned by United and then punished again by the FA but in-between all this he had to appear at Croydon magistrates court to face charges regarding his infamous slip into the crowd where he accidentally caught some abusive thug. Walshy, Southy and a few reds who help set IMUSA up and I had a few meet ups and phone calls and decided we'd go in a minibus to defend our hero Eric against the Mouthy Palace and general ABU's of South London. Somewhere along the line Channel 4' Big Breakfast agreed to pay for our minibus if we went on the show and sung for them that morning, I had to think for about half a second before agreeing naturally.
I was feeling rough the day/night before our big date on the breakfast show with Gabby Roslin and Mark Little and our appearance at court for Eric and Paul Ince who we were also defending in those days. I must have had alcohol or food poisoning because we were playing Arsenal at home and rather than singing in the D & P I was nursing a coffee on the forecourt an hour before kick off. The Game amongst other things will be remembered for the 'PLEASE SIT DOWN' tannoy announcement which spurred some reds into organising a meeting and months later IMUSA was formed. After the match which we won one nil we dived in the minibus for the long trip down to London. My illness carried on for about an hour before cans of lager helped me feel better for a few hours.
We did the show which was good fun and all the better for ripping the piss out the 'The Nolans' off camera all show. Apparently they had reformed and were going to sing a new song on the show but after our motley crew serenading them with ' Im in the mood for dancing' the producers of the show decided we would sing it at the end of the show, which we did very badly but equally memorable. We headed off to the court house in Croydon and made a bit of an entrance for the mass of the worlds media camped out there. Fifteen dishevelled Mancs with placards and songs about Eric made them very keen to talk to us and within an hour or so we had given interviews to local, national and world wide media teams. Eric, Ince and Ned Kelly looked surprised but cheeky smiles suggested pleased we were there in support. Sadly we had to leave before Eric was eventually released later that day because the minibus was due back in Salford that evening.
PYE EYED IN CROYDON AGAIN
When Erics appeal was announced I decided we had to make a show again. Most of the lads were normal people with jobs and commitments but I was shall we say in-between jobs/ career break ( nothing ever changes). My mate The Gov had (still has) a cousin called Dave Pye from Chorlton who is a top match going red but more importantly he drove then and we didn't  So then two car loads of reds drove down to London with little money and certainly couldn't afford accommodation so ended up sleeping in the cars in a multi storey car park. Looking back its a surprise the flying squad weren't monitoring us as potential armed robbers or something.
We stumbled out of the cars bleary eyed and smelling not great but still proceeded to have a kickabout on the road outside the 'appeal court' entrance which was a few hundred yards from the original court. A curious security guard came out and asked if we had come from Manchester just for the appeal. When we answered yes he was stunned and a little impressed, so much so he returned with passes for us for the public gallery. When Eric, Maurice Watkins and Ned saw us there all struggling to stay awake but actually there again to support Eric they looked absolutely astonished. When the verdict was announced we cheered, and Eric leaned over and said 'thank you' which made it all the better I ran out of the court shouting 'The King is free, long live the king' which made the opening lines of at least a couple of articles the next day.
To this day well known reds Fergus, Beanhead and Webby love talking about the Eric appeal as does Dave Pye who even last week was telling anybody in earshot that i broke his car window in Croydon back in 1995. Such wonderful memories for a truly great Icon that Eric is. I ve been fortunate to meet him on a few occasions down the years including a pre arranged meet in Paris last month. He will always have the aura about him and we shall still be singing the Cantona song in twenty years time.
This article was first published by Pete Boyle in Red News, the first Man United fanzine
The Urban Croydon Collective

,