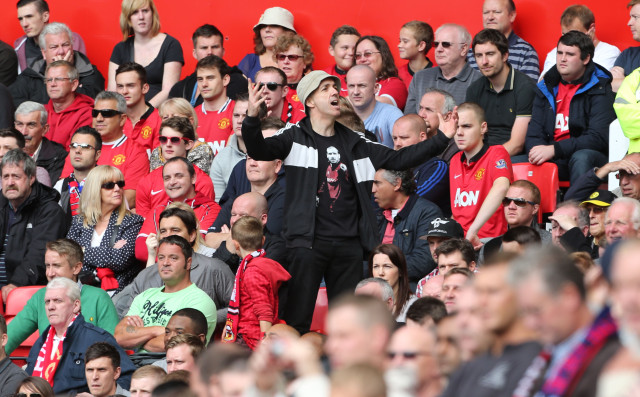 That Song Isn't Funny Anymore
AT UNITED FOR years we were proud of our identity. We were hated by all and stuck together as players on the pitch and as supporters off the pitch. It didn't mat- ter whether you were from Stretford, Scarborough or the Seychelles. If you was a Red you were a Red.
Although we have still provided some classic original songs we've also copied, 'West Hams' Christian Dailly/Hargreaves song', 'Palace ultras Song/for horrendous Pearl Harbour song' and the one ripping off 'From the banks' of our clas- sic anthems. At a recent game in J some of us started 'From the banks'. About fifty joined in but it faded out halfway through. A minute later and a further few times the Palace inspired song was sung by the majority of the stand as if they thought it was the proper United song.
When City fans used to sing 'you don't come from Manchester', as bitter as always, they were actually referring to the fact technically Old Traf- ford isn't actually in the City of Manchester whereas Maine Road was. After 'Italia 90' foot- ball had a new vast trendy following and the modern ABU was born. We had never hid our huge loyal OOT fanbase and why should we? Other clubs who couldn't fill their own grounds around the country hated people from their area who supported and in many cases actually travelled to watch United home and away.
'Super Danny Welbeck?' We cringed at Sunderland, Bolton, Villa, etc, and yet fifteen years later we are singing it.
As a born and bred Mancunian I felt nothing but pride in the dedication of these fellow Reds travelling from afar to watch our team. I even once as a seven year old or so child asked my dad for a badge with 'I m a cockney Red' on which they proudly sold on stalls by the ground, imag- ine the backlash if they did nowadays?
MORE RECENTLY IT was well documented Liverpool had sung the White Stripes song for that horrible Argentinian mate of Tevez and subsequently half the country had a version yet our then new marquee signing RVP was serenaded with it.
We also had a proud and varied songbook long before I contributed towards it. Many a time my father would shout 'Peter watch the game' as I gazed in awe at the colour, fervour and noise fans were making. Yes, we sung many a generic song but we also had a lot of original songs and it's satisfying that some are still sung today.
This season however I think we have gone even lower in originality song stakes. It was well known one of city's few songs is for Zabaleta to the hideous 'conga tune'. When Di Maria banged a goal in the United fans burst into this song. Next game at West Brom, fans were singing it again but then used the same tune dur- ing the game for Fellaini.
Throughout the last twenty five years we have again sung many a generic tune (here we go/ go west/Sloop John B, etc) but we proudly steered clear of shocking stuff like 'The Great Es- cape, der der der (insert team), pig bag theme/ hey baby/shall we sing a song for you/super super (insert player)'.
Some will say 'he's just annoyed because these aren't his songs'. Anybody who knows me will know that's nonsense. I start and join in on umpteen songs and chants that aren't mine, I don't mind singing anybodies song if slightly original. If I listed my top ten favourite ever United songs only two or three maximum would make it in.
Sadly in the last seven or so years it seems our support sees no shame or nothing wrong in being just another set, with Championship standard songs.
Some people say 'what are you moaning for? At least we're singing'. Whilst that's true I just feel as more and more fans of our club have stopped going/priced out, etc, that some things like our song tradition needs to be upheld. We should be the trendsetters not the sheep following the rest.
That Song Isn't Funny Anymore

,